Oh, Colonial America. You were a brutal one. People were trying to make a living in a harsh territory, where more things could kill you than not. Sickness was rampant, the land was lawless and everyone was to self absorbed in their own world of finding a home, that they seldom cared about their neighbor. It was a brutal place full of bible speak, punishment and watered down optimism. That is why it was it was a perfect time for witches to live in the outskirts. Witch hunts were rampant at the time, when Colonials weren't spreading smallpox to Native American's, they were out looking for a witch to burn or drown. Can't blame the witches for hanging out in the fringes.
The VVITCH takes place in that era. Here a family is challenged with homesteading and is sent out into the wilderness. They are systematically taken by a evil force living in the woods. As the evil spreads, the family begins taking aim at their own daughter as the source of their troubles. All the while an outside force is taking their crops and innocence.
That being said, The VVITCH gives you a lot to be thankful for and with Thanksgiving being just around the corner, I wanted to go over a few reasons as to why, The VVItch should be on your list of Thanksgiving films to watch while your pumpkin pie and stuffing digests.
Before all hell breaks loose, this is a family who is thankful for their place in life. They spend their time living their lives and making the most of what they have – not realizing an inescapable evil is about to take hold of them.
The family spends their meals around a table and fire enjoying each others company and plans for their future.
Most of us enjoy breast meat from the turkey while gathered around the table. The crow in The VVITCH is no different. Sure, his family isn't gathered around him but they are close by and he is still able to feast.
In the name of delicious honey baked ham, a lot of pigs have to be taken to slaughter. One witch in particular prefers her meals as ham tar tar.
Black Phillip specifically would like you to live deliciously. And when the dark lord speaks we gotta listen right? Eat up, be merry, have some butter with your turkey and have a Happy Thanksgiving, folks!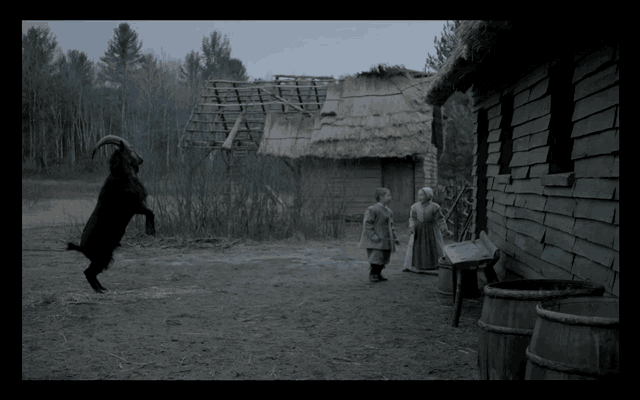 For iHorror fans - Limited time! Download the Robinhood app and get a FREE stock in your new account. Click below ! - Anthony iHorror CEO