Color me disappointed, boils and ghouls. It looks as if TNT's Tales from the Crypt reboot isn't happening after all.
Kevin Reilly, president of both TNT and TBS networks, has confirmed that the show is currently six feet under. While speaking to Deadline, Reilly delivered the news that Tales from the Crypt will not be moving forward due to issues with the rights to the show. From the interview:
That one got really caught up in a complete legal mess unfortunately with a very complicated underlying rights structure," Reilly said of Tales From the Crypt. "We lost so much time, so I said, 'Look, I'm not waiting around four years for this thing'. Maybe that will come back around but in the meantime, Ridley Scott had come up, who has so much creative enthusiasm.
Reilly is referring to a new science fiction series that will be helmed by legendary Alien director Ridley Scott.
Still, he did leave off on a hopeful note about the possible comeback of the horror anthology series. On the possibility of the reboot ever seeing the light of day:
I haven't ruled it out. We don't have a specific property today but we're open to it.
For better or for worse, right now M. Night Shyamalan's revival of the series has been canned. Is the series better off dead? Or could Shyamalan have reinvented the franchise, not unlike Ash vs Evil Dead? For now, we will never know.
The aforementioned Ridley Scott series is yet to be named. No further details could be found about the show besides the fact that it is slated for a 2018 run. Scott could very well be set to direct the series. We will be sure to keep you updated as soon as we find more information.
And if Tales from the Crypt ever does come back, you can be sure that iHorror will keep you in the know. In the meantime, we'll always have reruns.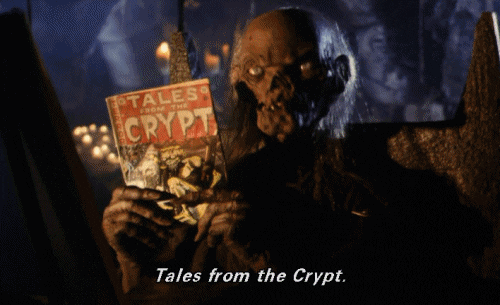 New Pre-Orders Available! Click below: