Okay, folks, calm down. Stephen Colbert did, in fact, become a victim of a chest burster attack, but it was all in good fun. Much like this clickbait-y article title. It was just too funny to resist!
And so was the segment from The Late Show with Stephen Colbert that aired last night, featuring none other than Sigourney Weaver herself. Colbert prefaced a spoof of the Alien universe by saying that he cannot confirm whether or not Weaver will be returning for any future Alien films, but if she did, Colbert would have a clip for us. Things then got super ridiculous, as one might expect from Colbert.
Watch the hilarious segment below. I have to say, the mints were a very fine touch.
Thankfully, Colbert is expected to be fine after his extraterrestrial encounter, as it was apparent that the xenomorph in question was very, very fake. Which is relieving – I think Stephen Colbert is one of the funniest guys out there on late night television. And can we also take a moment to appreciate just how good Sigourney Weaver looks for her age? Hot damn!
I would love to see the character of Ripley appear in more Alien films. The question is, how? A clone? An alternative universe? Director Ridley Scott has disclosed recently that there are more than a few new films in the works, with the timelines getting a little wonky between them. So, really, anything is possible.
And for those who say she could never come back, well, I would certainly never say never at this point. We've seen the return of Ash Williams, Han Solo, and most recently, Michael Myers is set to make a proper comeback with the aid of John Carpenter. So don't rule it out!
Alien: Covenant will make its nationwide debut on May 19th.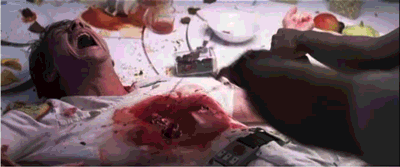 New Pre-Orders Available! Click below: