Perhaps one of the most controversial '90s "kids" television cartoons; Ren & Stimpy left children entertained and parents horrified. Now it's getting a full-length documentary.
Called Happy Happy, Joy Joy – The Ren & Stimpy Story, it was made possible by a crowdfunding Indigogo campaign and will be released on August 14, 2020.
The cat and dog BFF Nicktoon has a sordid history to be sure.
Its creator John Kricfalusi allegedly had frequent clashes with Nickelodeon execs. The network's Standards and Practices demanded a lot of changes to the off-kilter cartoon and ultimately Kricfalusi acrimoniously left his own creation forming a divide that extended into personal friendships.
According to the Indigogo campaign, Nickelodeon is not producing the film. As for Kricfalusi: "We have asked him multiple times for an interview," say producers Kimo Easterwood and Ron Cicero. "He has okay'd the participation of several people close to him, however, as of now, John himself has refused appear on camera…but who knows what the future holds."
Although the doc will focus a lot of its time celebrating the technical side of the show, the filmmakers assert they were able to get over 70 hours of interviews with integral players in the creation of Ren & Stimpy:
"Bob Camp, Vincent Waller, Billy West, Chris Reccardi, Jim Gomez, Vanessa Coffey and more, share their surprising insights into the true cost of creating a pop culture classic; what it's like capturing lighting (sic) in a bottle, and the overlooked secret to true artistic genius."
Aside from all the drama behind-the-scenes Ren & Stimpy is a solidified cult phenomenon. If ever there were a cartoon on a kid's network that pushed the envelope, then pushed it some more, it was this one. Its art style was cutting edge, it had shock value and carefully placed sexual innuendo was prevalent throughout.
The movie premiered at Sundance in February to great reviews.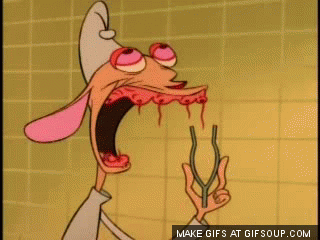 Gravitas Ventures is releasing Happy Happy, Joy Joy – The Ren & Stimpy Story in theaters and on VOD August 14, 2020. The theater schedule is undetermined due to COVID but pre-orders for iTunes and other VOD outlets will be available soon.
Click HERE for trailers and more information.
Take a look behind the scenes of the upcoming 2021 horror movie The Conjuring 3