Well folks, we've made it!  We are now in the homestretch to Halloween. This is the one holiday of the year where we horror fans are allowed to let our freak flags fly.  With the holiday comes the music, and it needs to be good.  Sure we could play the same old thing we've listened to year after year, (Ghostbusters theme, The Monster Mash, etc.) or we can choose to mix it up with a few other songs that we tend to forget about.  It's in this vein that I present to you; A New Soundtrack for Halloween!
"Keepin Halloween Alive- Alice Cooper" (2009)
We start this list off with a nice little gem by the Master of Darkness himself, Alice Cooper.  Sure we could've picked several songs off of his repertoire, but "Keepin' Halloween Alive" is just pure fun!  It's got a catchy chorus and is a great way to sweeten the holiday.  It's nice to have a song that simply talks about the holiday itself.  "Keepin' Halloween Alive" deserves to be this holiday's version of "The Most Wonderful Time of the Year".  The song speaks of trick or treating, snakes, spiders, and everything else you would expect from Halloween and the ageless Alice Cooper.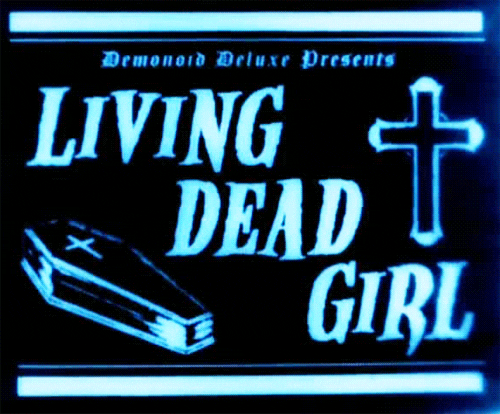 Living Dead Girl-Rob Zombie (1998)
In a 3 minute and 26 second song, Zombie delivers everything a horror enthusiast could hope for!  Within the first minute of the song he uses samples of Lady Frankenstein, Last House on the Left, and the Daughters of Darkness.  Not to mention the entire song is an homage to the 1920 classic black and white horror film The Cabinet of Dr. Caligari.  The song has an insane groove that is just plain fun.  He references various horror movies through the lyrics and truly shows that when it comes to horror movies Zombie knows his stuff!  Although entertaining any day of the year, "Living Dead Girl" is a great tune for the 31st of October!
Brain Damage-Pink Floyd (1973)
Based on band member Syd Barrett's fall into insanity, this song is a dark and eerie tune that seems amazingly appropriate on Halloween.  Fun fact: The line, "You raise the blade, you make the change" is a reference to frontal lobotomies.  The song speaks of insanity and foreboding and is just plain creepy.
Cirice-Ghost (2015)
What would any soundtrack be without a great love song?  This love song, however, has more of a sinister twist to it!  "Cirice" is an old English word for church.  The song is a beckoning for a young female in the congregation to follow the dark lead of the satanic leader and be born again into darkness, a theme perfect for Halloween.  Even though your soul is untainted this song reminds you of the rumbling that is happening.
Kim-Eminem (2000)
A love song gone very wrong.  This song is a maddening and sickening downward spiral into an abyss only Eminem could pen.  Influenced by his ex-wife, Eminem wrote this song to fantasize about the murdering of his baby's mama.  Perhaps the most disturbing moments of this piece is how Eminem discusses mommy's murder with his daughter.  You can really feel the darkness and despair that enters someone's heart when love goes awry.  The fact that the body count increases to include a four year old boy and Kim's boyfriend makes it a welcome addition to Halloween.
Night of the Living Dead-The Misfits (1979)
Where to start with the Misfits?  There are so many great Misfits songs out there that this entire list could be comprised of Misfits songs for Halloween (hmmm… another idea for an article?)  This song is pure adrenaline and fun.  Based off the Romero classic of the same name this song keeps it short, simple, and punk!
Pet Sematary-The Ramones (1989)
Another punk song based off a movie, Pet Sematary, is the Ramones nod to the movie of the same name.  For those readers who know me, know that no article of mine would be complete without me adding Stephen King into the mix.  Cool fact about this song; Stephen King invited the Ramones to play his home in Bangor, Maine.  While there he handed the band the novel Pet Sematary, Dee Dee Ramone escaped to King's basement and penned the lyrics to the song within an hour.  The addition of this song into your Halloween mix will raise the dead for sure!
Nightmare-Avenged Sevenfold (2010)
This song, sung by a resident of hell's point of view, is a rocking addition to any Halloween soundtrack.  It is based off the idea that the person finds himself in hell and the wrong doing he did on Earth is what landed him in the realm of fire.  This was the first single released that didn't feature The Rev on drums, as he sadly passed away in 2009.  The visuals that this song unleashes is a shock to the system while being a pleasure to the ears!
Roots-In This Moment (2017)
If you haven't had a chance to check out In This Moment yet do yourself a favor and check out one of the hardest rocking, shadow dwelling, soul stealing bands that have hit the scene in quite a long time.  The lead singer Maria Brinks is not only beautiful, she is an amazing performer that entraps all of her viewers in her web.  While Roots is a song that speaks of rising above hate, ignoring the naysayers, and doing what's right for family, it has a sinister edge and a layer of grime to the song that leaves the listener in its wake.
I hope that you enjoyed this New Soundtrack for Halloween and will consider including some of these songs in your playlist for your parties and hauntings!  Enjoy the holiday folks!
New Pre-Orders Available! Click below: