Rejoice or be wary, but you read correctly! Comicbook.com recently revealed that avowed plot twist prince M. Night Shyamalan has his sights on the sophomore season of our favorite eighties D&D metaphor, Netflix's Stranger Things. 
There's neither a yay, nor a nay yet, from The Duffer Brothers (Stranger Things' conceivers–or "papas," as Eleven would say) or the cast, as to whether they fear or revel in the thought of being placed into Shyamalan's hands.
Some may feel as though this could be a natural transition. In season one's finale, (spoiler alert) the adorably androgynous Eleven unveils the fact that she is "the monster." (And while I think it's safe to say not many of us got quite a human vibe from her, per se, we certainly didn't see her as one of the enemies.) Her evanescence, presumably into the Upside Down, may provide a fair segue for M. Night to enter and endure with the plot twists.
But the initial twist has already wormed its way in: as it turns out, Shyamalan and The Duffer Bros have already since been in cahoots. Albeit not yet in regards to Stranger Things, the partnership instead dwelled in the likes of Wayward Pines–Fox's novel to small screen thriller, for which Shyamalan has executive produced.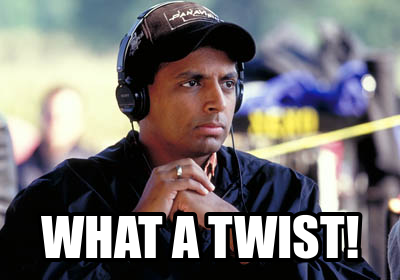 "My boys who do Stranger Things, they did Wayward Pines for me," M. Night revealed, blowing my mind even beyond the confines of the silver screen. Apparently, this was the brothers' television debut! They had a low key hand in the show's freshman season, before going on to fully overtake the modern sci-fi scene as we know it, soon thereafter. "They were 'round my house and I was like, 'Well, you can hire me back guys!'" Wink, wink, nudge, nudge.
The one-man direction, production, writing, and occasional acting team has been celebrated in the past for his work on pieces such as the mind-bending Sixth Sense, and the chilling, genre-relevant Signs. To even the playing field, though, many fans questioned Shyamalan's creative license, in regards to The Village and The Happening. However, 2015's The Visit proved to be somewhat of a comeback on M. Night's rollercoaster of a career–and many of us seem to agree that this Friday's Split and the upcoming Tales from the Crypt revival look to be rather promising.
So, what do you think? Were the Golden Globes right? Will Barb have been alive in another dimension all along, M. Night willing? Drop your theories, complaints, or squeals of delight in the comments below!