Director McG has given us some wild rides cinematically in the past few decades. From Charlies Angels to Terminator: Salvation to more recently The Babysitter 2: Killer Queen, the sequel to his hit 2017 Netflix hit.
Now streaming on Netflix, Babysitter 2 is an action-packed, pop culture laced horror comedy with plenty of gore. iHorror talked to McG about his inspiration, how he feels about streaming services, and the horror movie that scarred him for life.
iHorror: Hi McG, thanks for talking with us. I think people would immediately connect you to the '90's Charlie's Angels action films. Those were great.
McG: "Those were fun, weird, experimental movies."
"Now this Babysitter universe is this kind of a fun and experimental thing. My bosses on both ones are like 'what are you doing?' I'm like, 'just trust me, it will all come together in the end.'"
It seems more fun than the first movie. Was that your intention? Or did it just come about organically?
McG: "I think it's more organic. It was honest, you know? This reflects the filmmaker that I most naturally am as far as I like to synthesize different tones and I like to have full-bodied entertainment like films that I grew up on. You know sort of the Amblin days of Steven Spielberg.
And, you know, I like to laugh, I like to feel emotion, I like to be thrilled, I like action, I like romance, and it's my goal to make high-brow and low-brow and have it ultimately feel original and have people say, 'oh, I can tell that's a McG movie.' Which is certainly your privilege to say, 'and I hate McG movies or I love them.' It's unforgivable to not have a signature in the arts."
I feel like you have visual orchestration in your films. Not the musical kind, but a certain rhythm throughout the movie that plays out visually, if that makes sense. Almost like the construction of a song. Is that conscious? Is there a constant soundtrack in your mind? How does that process work for you?
"I think you nailed it. It's like a soundtrack playing in my head and again it's very natural to who I am. I have an older brother and an older sister. I grew up with my sister listening to disco and my brother listening to Led Zeppelin. I would always act out the songs. And I think that resulted in the synthesis of sound and vision which is the name of my company.
I put equal weight on how the movie sounds and the way the movie looks. I think you should be able to turn off the sound and just stare at a movie and understand what's going on. And I think you should be able to turn off the picture and just listen to a movie and understand what's going on and should you do your job well and put them together, it's a whole new artform."
There have been some dark horror movies that have recently come out; Hereditary and Midsommar. In the past, movies such as Nightmare on Elm Street have more of a comical feel.  Babysitter 2 seems more like the latter. What are some of McG's favorite horror movies?
"I like the bleak fare, I just don't express it well. It's ironic because the things I enjoy watching are always reflected in the way my stuff comes out. I was sort of raised on Videodrome and of course The Shining. But then there's like, a big DePalma influence running through there.
I was fortunate to grow up in the birth of the videocassette. That was the 80's when I could just say, 'hey I'm no longer subject to the programming at the local art theater to, once a year stumble, into a Hitchcock picture.' I can rent the entire body of Hitchcock's work and watch it in a weekend. The influence that had on me was breathtaking.
I don't think it's strange that I sort of ran into Quentin Tarantino's arms when I was making music videos and commercials; I was doing it for him at his company A Band Apart. He was clearly a guy standing around a video store just staring at a screen in the background 8 to 12 hours a day watching spaghetti westerns and different foreign films.
I still watch a movie every day. There are times, and there were times that I would watch two or three movies a day, it's what I did. And, you know, I was paying attention.
And I was playing around with a camera and I was listening to a lot of music and I just sort of completely and totally went out there and started doing it. I had a friend who was a camera assistant who could get some Panavision gear which was unheard of at the time in the 90's. So we got some, and we just started shooting things. It was such a wonderful way to discover your own voice.
It's probably what I love most about filmmaking is that, you know, the better the script, the better the films going to be, but none-the-less if you give the same script to five different filmmakers you're going to get different things. The final expression of the film is going to be so different depending on who did it. I think that's why I've always loved the movies."
Yeah. So true. In Babysitter 2: Killer Queen it's almost like you went into it going I'm going to put everything I have in there and I'm going to make it fun. Was there always meant to be a sequel?
"No. Not necessarily.  Here's this other thing that I have been thinking about and I'd love your opinion on. There's the television I was raised on, then there's the theatrical film experience that I was raised on. It was truly a two-hander. I'm growing up on Happy Days, I'm growing up on Magnum P.I. I'm growing up on everything you can imagine. And then film: I'm spending the night to see Star Wars, I'm watching E.T., you know, Raiders. I'm doing that thing.
And now we live in this era of Netflix and streaming in general. It's resulted in a new aesthetic which I'm thrilled about. Not for one-second do I mean at the expense of theatrical or at the expense of traditional television—although I don't really know what that means. But you and I are freer than ever to check things out. It's hard to find time, it's expensive. You gotta park at the mall, and walk and sit and eat, you know it's hard-it's prohibitive to get to first-class theatrical fare.
When I was younger, I went to movies 5 to 7 days a week. I don't find that I'm in that natural rhythm now, but I haven't stopped watching film as much. If you look at The Crown. If you look at Mrs. Maisel, for God's sake Game of Thrones, it's just perfect, perfect, perfect. It's a new artform and I think, where people like you and people like can actually go to that medium for first-class storytelling and first-class execution of storytelling. It's opened up experimental opportunities for movies like The Babysitter to find an audience.
The Babysitter can't exist on ABC on a Wednesday night. The Babysitter probably isn't a great movie to release theatrically. It's a little too weird. It's more like a Grindhouse movie that maybe I will see at Alamo Drafthouse or something.
Netflix might be perfect for you since you have a music video background. I look at a movie from my youth called Flashdance and I see some of you in it even though it came out when you were a kid. Netflix might be the perfect medium to tell a larger story on a smaller screen.
"If you look what Adrian did with Flashdance I mean it's a seismic, seismic influence on me. Obviously it's not hard to look at my stuff and that film to see that it had a huge impact on me. I don't know if Flashdance could get done today. It's too odd. It would get done at Netflix or Amazon or Apple. It's a great thing because that sort of filmmaking doesn't fit into a box, doesn't satisfy metrics that seem to support spending $75 million dollars on a move then another 50 to 100 to roll it out.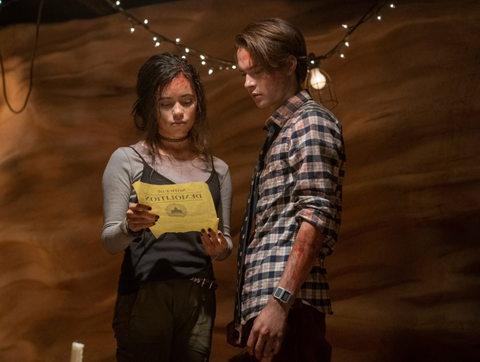 I just want to see movies like that continue to be made. You talk about Midsommar, which very clearly came out of an Indie framework—it just popped. The Indie film game is still alive but, I don't know, if anything it's been bolstered by the streamers.
I do want to see theatrical survive and thrive. Boy do I appreciate television, but I gotta tell ya', seven days a week, I'm going to duck into Netflix. It's just part of my life."
Since we seem to have grown up in the same movie era—the 80's—once you become a director, do movies lose some of their magic? Does it change when you go from the spectator to the director?
McG: "It did not for me. I'm happy to report that that's the case. The lights come down the film goes on and I'm taken away. The curtain's never been pulled back for me. I try not to be cognizant of what they did or technically achieved. I let go of all that and I just let the experience take me away.
There's one thing that my knowledge of filmmaking compromised and that's my reaction of being afraid. So in horror in particular—probably the most influential film in my life is Halloween. I saw it in a theater and I was too young. I was too, fuckin', young. My older brother took me and he could kind of handle it, and for lack of a more delicate way of putting it, Halloween fucked me up.
It's largely a bloodless horror movie. Just the lack of affect and the blankness and the existential punch of the Michael Myers experience—I was afraid for years. Literally for years! Walking around corners, going to bed at night. It resulted in a disproportionate fear response which is thrilling and fun. But it traumatized me."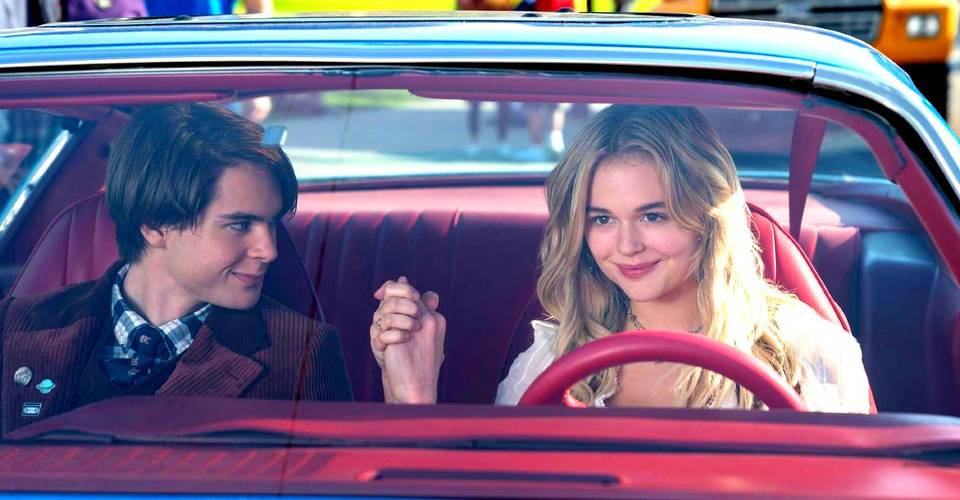 Maybe that gave me a tremendous drive, but I haven't been scared like that since."
"I understand what goes into playing Chewbacca, I understand what goes into playing Freddy Krueger. That part, in answer to your question, that part maybe took the fear out. Which is fine. But as far as the majesty of the movie and not deconstructing while I watch, I still can completely involve myself like I'm a child."
With Babysitter 2, you're making this world: It's funny—I'm not sure if it's scary, but it does have some punch to it.
Yeah. I don't regard it as horror. I don't know if it's comedy—it's a remix, it's a mash-up; it's a grindhouse movie. It's an amalgam of many things. I would love to make a proper cerebral horror film before I'm done.
Will there be a third part to The Babysitter?
"We have the story, the fans will speak to that. I the fans demand it, then I'm sure everybody at Netflix will want to go and do a third one. But we definitely have a conclusion to the Cole arc."
The Babysitter 2: Killer Queen is now streaming exclusively on Netflix.