Get ready to binge. Hulu is debuting a new teen horror called Light As A Feather on October 12- and all ten episodes of the series will be available that day.
The series is based on the short story Light As A Feather, Stiff As A Board by Zoe Aarsen and is created and produced by Lee Fleming Jr. The storyline revolves around five girls who play the infamous game Light As a Feather, Stiff As A Board at a sleepover.
The game goes awry when they begin dying in the order and manner predicted by the game. Though the TV adaptation will stay true to the spirit of the source material, Fleming discussed some changes with IGN:
"Fleming admitted that the show needed to skip some parts of the original story in the adaptation process, but also added a few new elements that he hopes fans of Aarsen's work will appreciate. "In turning it into a TV series sometimes you have to add elements, and obviously it's a book, so the series goes on beyond the book," Fleming told us. "So we do deviate, but the spirit of the book is definitely there."
For those of you who don't remember being a teenager and playing this game at sleepovers, let's take a look at what we're dealing with.
The game typically has five players, one laying still at the center, and two kneeling on each side. Each of the four players kneeling places two fingers under the player lying down. They try to lift the person in the center and obviously can't.
Then the chanting begins: "Light as a feather, stiff as a board. Light as a feather, stiff as a board…"
As the group continues to chant the body in the center should soon be able to be lifted up by the fingers of the others. If you want a crash course in this occult game before the series premieres on Hulu, try rewatching The Craft.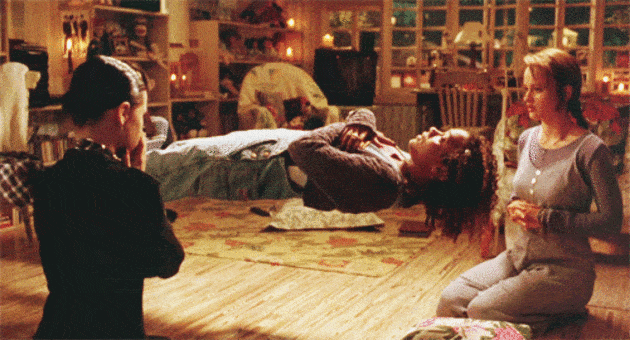 Gifer
Have you ever successfully levitated your friends? Let us know in the comments below and get ready to binge watch Light As A Feather premiering on Hulu October 12!