We here at iHorror are avid fans of Funko Pop! figures. There's something so delightfully charming about them, and the vast number of figures to suit every fandom means that there truly is something for everyone. Funko's newest Hocus Pocus collection is coming just in time for Halloween and we can't wait.
In celebration of the film's 25th anniversary on July 16 (that's right – July… not October), Spirit Halloween is releasing a special collection of Funko Pop! figures featuring the three Sanderson sisters. Fingers crossed for a Billy Butcherson Pop! in the future.
Each figure is depicted with their chosen method of transportation – Winifred with her broom, Mary with her vacuum, and Sarah with her mop. We don't expect a Pop! Rides figure of Sarah driving the city bus, but it would be pretty perfect.
Light the Black Flame Candle and cue the skeleton band, these figures are delightful!
For the uninitiated, Hocus Pocus follows three witch sisters who – after three centuries – are resurrected in Salem, Massachusetts on Halloween night. It's up to two teenagers, a young girl, and an immortal cat to put an end to their reign of terror once and for all.
The 1993 Disney film (starring Bette Midler, Sarah Jessica Parker, and Kathy Najimy as the Sanderson sisters) is a family-friendly holiday staple that rose to cult classic status after an unsuccessful theatrical run (maybe that's what happens when you release a Halloween film in July?).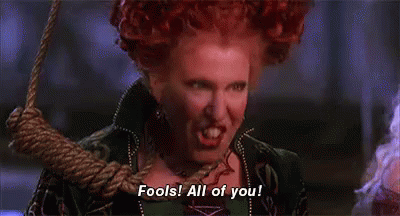 You can find the Hocus Pocus Funko Pop! collection for pre-sale on Spirit Halloween's website with an expected ship date "on or before" September 30, 2018. They'll be available for sale as of the film's anniversary on July 16.
The figures will also be available in stores once they open in mid-August, but if you're desperate to own one, be warned. It's likely that they won't stay in stock for very long.