Filmmaker Mick Garris does a mostly-weekly podcast called "Post Mortem" that serves up the dish with many prominent people in the horror entertainment industry.
You may already know Garris from behind the camera as director of the TV mini-series "The Stand" as well as with his acclaimed television remake of "The Shining" in 1997.
He has put his touch on many television horror/suspense dramas too such as "Pretty Little Liars" and "Ravenswood." And helped pen the screenplay for perennial fall favorite Hocus Pocus.
Today Mick is using his voice to delve deeper into the who and why of horror.
His hour-long gabfest serves to peel away some of the layers not often explored because of the exclusivity of the niche. Garris talks to some of the most influential people whose livelihood it is to scare people at a visceral level.
Being immersed in the craft himself allows the golden-haired host a certain comradery therefore getting details from artists who would normally give stock answers to corporate media questions.
This week Mick welcomed millennial favorite Eli Roth into the studio to discuss many aspects of his career and find out what this maverick has in store for the future.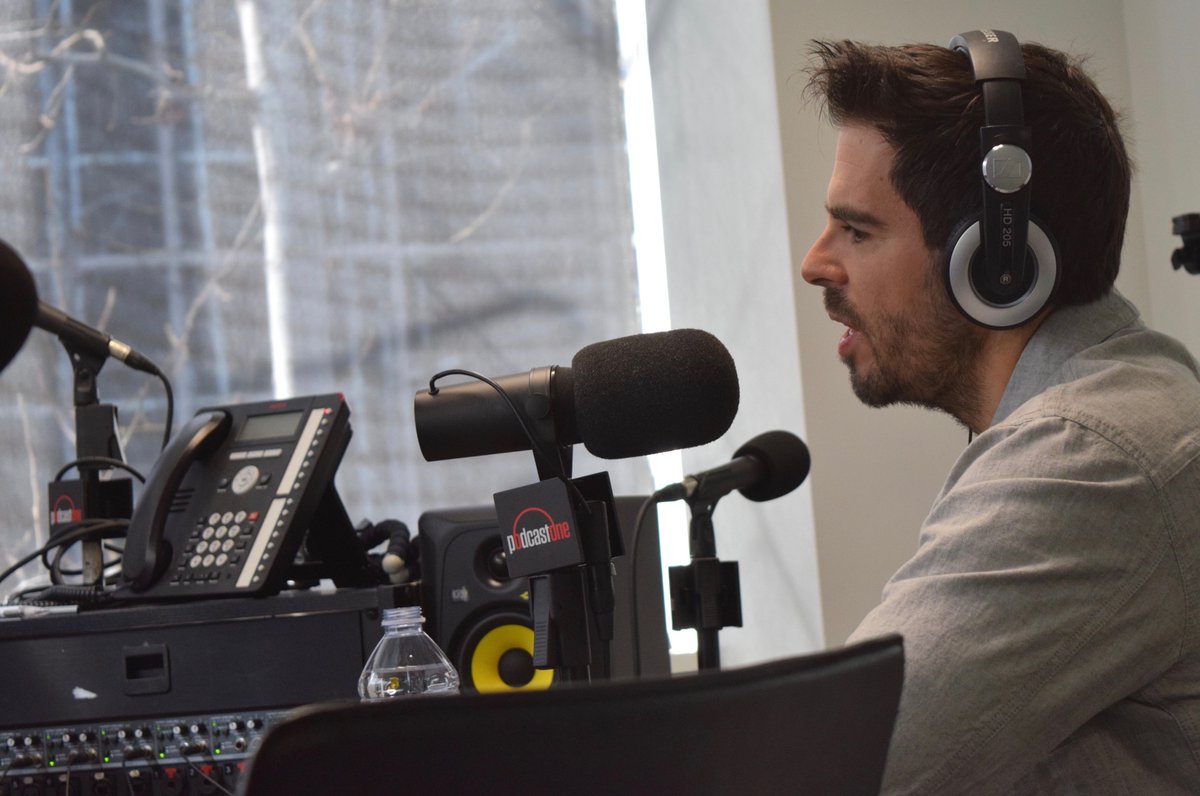 Fifteen years ago, Eli's inaugural full-length feature "Cabin Fever" was a mixed bag of reviews, but to fans it was an introduction to a new talent who would unabashedly make gore a primary character in most of his films such as "Hostel" and "The Green Inferno."
"You know I never thought of myself as a horror film maker," Eli tells Mick at the beginning of the podcast. "And I completely understand why people would refer to me as that because those are the movies I've made and that's what I'm known for. But in my mind I was always telling stories I loved I never thought, 'Oh I'm a horror film maker,' I just approached it like this is a story that interests me."
He goes on to say that forbidden subjects are often his inspiration behind the movies he makes. He says anything considered inappropriate was often enough to feed his compulsions: but they had to be sweetened in cleverness to mask their distaste.
Eli goes on to tell the host that he didn't make "Green Inferno" because he thought it would be a hit, "I'm making it because I thought, you know…there's no more unexplored territories in the world anymore. Everything has been geo-tagged and mapped and photographed…I liked the idea of these kind of self-righteous justice warrior kids…the cannibals don't know the difference, they're like invaders you're our food supply."
In Cabin Fever Eli says he was like a kid in a candy store, making reference to all the great horror films that had an effect on him.
"There's something in a first movie that you do where it's like every little fetishistic thing, like okay the shot on Marcy's ass is my 'Texas Chainsaw Massacre' swing shot, okay this my 'Night of the Living Dead' ending with Jeff getting shot…this is my 'Evil Dead shot'…for super horror fans it's like reference after reference after reference…"
For his second film the director says he abandoned that thinking and along with his Director of Photography, Milan Chadima, choose not to follow anyone's influence.
"I made a very conscious choice on Hostel," says Eli, "I am going to approach every scene on instinct."
During the interview Garris references Eli's talents away from the camera. The director has learned classical piano, boxing and with the help of his wife, surfing.
"it's great to find something you've never done that you're like I'm going to go for this, I'm going to focus on this, I'm going to really lock in and do it."
Answering a question from a listener about his 2003 animated comedy short "The Rotten Fruit," Eli says that he would like to do more with the medium.
"I started in animation," says Eli. "You know, I looked at Terry Gilliam, David Lynch, Tim Burton. A lot of my heroes started with animation. I started with a series actually for WCW wrestling in 1999 called 'Chowdaheads,' my friend and I, we wanted to do 'King of the Hill' set in Massachusetts and we were going to call it Massholes."
We have only skimmed the surface of the 60-minute Garris/Roth interview here. Eli speaks about many things in his works that are probably not on any DVD commentary.
With his next film "Death Wish" currently in post-production, Eli doesn't seem to be slowing down. He has also written the supernatural mystery "Lake Mead" which IMDb says is currently in post-production.
Eli explains his fascination with the genre and what aspects are used in creating the alloys of horror.
"It's a combination of loving ghost stories," he explains, "loving scary stories, having a fascination, like sneaking, sitting with a flashlight, reading 'Skeleton Crew,' or reading Stephen King in your bed under the covers at night when you're supposed to going to sleep. But also always having this reflection of well, you know if you're not careful what can actually happen; what humans are capable of is far worse than anything we can think of in our imagination."
You can hear Eli's enlightening interview in its entirety by clicking HERE.