Written by Patti Pauley
If you think Freddy is gonna settle for another sleazeball video promotion, you must be dreaming!
Well, it's nice to know if Freddy couldn't pass his Slasher High exam, he could always make it as a salesman!
Confident Mr. Krueger really knows how to sell himself and at the time, his new feature film the glorious third Nightmare installment Dream Warriors.This once exclusive to video stores promotion served a sole purpose to try and get video store owners to buy bulk copies of a certain film getting ready to hit the market, and usually had the star of said movie or some eye-popping gimmick in the promo to seal the deal. In the case of Nightmare on Elm Street 3: Dream Warriors, all was needed was Robert Englund. Hell, we didn't even require the Freddy makeup, but it sure as shit is an awesome bonus!
In the promo, Freddy could sell the overused cliche of a ketchup popsicle to a woman wearing white gloves. He slashes his way through the opening narration to remind retailers that Dream Warriors earned over $25 million dollars in its first two weeks at the box office, with a sum of over $40 million by the end of its theatrical run; marking it the highest-grossing independent horror film to that date. And goes on with confidence to openly admit in pure Freddy charm, that he (Krueger) made that all possible-sucka.
The video also goes on to remind retailers along with Freddy with a presentation board using his glove as a teaching pointer that each Nightmare movie before Dream Warriors moved a combined total of 300,000 VHS rental units up until the time of this 1987 promo. Then moves into a real retro treat showcasing some of Englund's vintage appearances promoting Dream Warriors such as on the Joan Rivers show, and of course, the goddamn Dokken music video.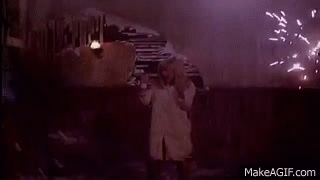 Regardless of the national treasure that is totally Dream Warriors, you can more about my love for the film here, the floor displays and light up posters that come along with retailers purchase would be enough to empty my damn wallet. Check it out in fantabulous VHS form below, and for your own good, don't nod off while watching…
If this tickled your retro fuzzies, check out this previous edition of Retro Rewind, of another one of these glorious VHS retailer promos featuring everyone's favorite Good Guy, Chucky.