Written by Tori Danielle
If you didn't know by now, the classic vampire film The Lost Boys turned 30 today! It's crazy to think that it's been that long, but alas it's the truth. Despite all the years, it still remains a beloved favorite and forever a kickass vampire story. One of those reasons is because of the "lead" vampire David played by Kiefer Sutherland!
David was edgy and cool, not like any other vampire out there. He was an asshole, but you couldn't help want to be around him and perhaps even drink his blood (I'm pointing at you, Michael). Throughout the film he didn't have much dialogue (seriously barely any), however, he did have some of the best lines and memorable quotes. He also apparently liked to say the name Michael… a lot.
"Maggots, Michael. You're eating Maggots."
It's too late, my blood is in your veins."
"Be one of us, Michael."
"Now you know what we are and now you know what you are. You'll never grow old Michael and you'll never die. But you must feed.
Beyond Star, I'm surprised he didn't have a bunch of vampire groupies hanging out in the cave. If he came up to me and told me the idea of sleeping all night, partying all day, never growing old, and never dying… I'd be sold. He was charismatic, good looking, and in charge. Maybe having a bunch of girls lurking around was beneath him and despite being a cocky teenage vampire, he may have actually cared about Star. Or not, who knows?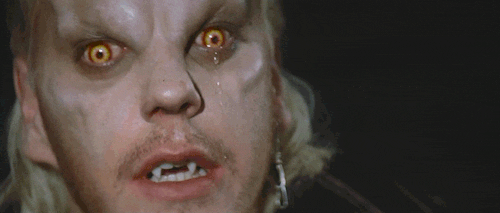 I actually always felt slightly bad for him. He was just making the best out of what was done to him. He was the leader of The Lost Boys, but not the head vampire. David was created to kill and he lived up to those expectations. I do think family meant a lot to him. always thought the ending was bittersweet when he dies and slowly goes from deranged vampire to helpless dead teenager.
I just know that if David approached me or many other fans it wouldn't take much persuading. He was pretty convincing. All I ask is for him to bite me instead of having to drink his blood (laughs). On that note, Happy Birthday to The Lost Boys, a film that will never grow old and never die!