Ryan Shaffer's Horror Express Studios Facebook page is like an Amazon wishlist for horror fans and diorama enthusiasts. From recreations of Freddy Kruger's glove to the Necronomicon to a bust of the killer miner from My Bloody Valentine, Ryan literally puts his heart into his work.
For one of his creations, he collaborated with fellow artist and friend Erik Arndt. It was a bit of an adventure, they created a diorama featuring Dr. Loomis' 1976 Ford LTD station wagon from the 1978 horror classic Halloween. They originally had only nine cars to work with.
Not satisfied with creating only those, they searched for more and eventually came across another nine.
They were offering them for sale to the public, but sold out almost immediately.
For the work, Erik spent time detailing the cars while Ryan created the intricate diorama.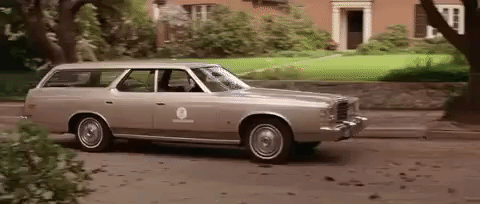 Recently Rue Morgue talked to Ryan about what inspired him to create the scene used in the model.
"Most of all the shots that showed the car, it was moving," he explains. "I just wanted to give a strong Halloween vibe with the tree losing its leaves, the sidewalk that Laurie, Linda and Annie walk home from school on and most importantly the hedges!"
For the original film, then production designer Tommy Lee Wallace was tasked by director John Carpenter to find a car that looked government-official. Wallace went to a nearby Los Angeles car rental outlet and rented the LTD, added details such as a wire mesh divider, decals, and Illinois license plates. They used the car for two weeks and history was made.
Horror Express Studios describes itself as "Building Horror movie replica props, signs and custom orders."
If you browse their public photos on Facebook, you will see that statement is a bit conservative. The amount of work and realism in their pieces is astounding. They have given minature life to scenes from Jaws, Pet Sematary, Christine, and other horror classics.
There's even a companion piece to the Halloween LTD; the Phelps Garage truck Loomis finds hot on Michael's trail of carnage.
You can find out more information on Horror Express Studios HERE.