Blood, Mother! Blood! …is rapidly rushing toward the small screen–and ahead of its regular schedule! If you're not as obsessed as I am, you may not have noticed the trend: Bates Motel has always been known to debut each season in March.
This year, however, Entertainment Weekly has revealed that A&E's modernized Psycho prequel is slated to seek its final revenge on February 20th, 10 pm ET.
Reading further may contain spoilers–but if you're gearing up to watch the series' curtain call, we would imagine that you've likely caught up to this point. If not, you've still got time! You have nearly two months to catch up, so start screaming to the tune of screeching violins.
For those of you who are vaguely familiar–or perhaps, not, but intrigued–Bates Motel follows the ascension and spiral of then-teen Norman Bates (Charlie and the Chocolate Factory's Freddie Highmore), alongside his widowed mother and innkeeper, Norma Bates (The Conjuring's Vera Farmiga). The duo is close. I mean, creepy close.

Together, they head to the sleepy town of White Pine Bay, Oregon (which may be sleepy, due, in part to its lucrative pot industry) to buy (dun dun dunnn) a motel, and begin a shiny new life. This fresh start is succeeding an unfortunate "accident" that claimed the life of Norma's abusive husband (I think we can all use our imaginations here).
Norman is psychologically troubled (yes, per the series' namesake): haunted by blackouts, the violent contents of which he has no recollection.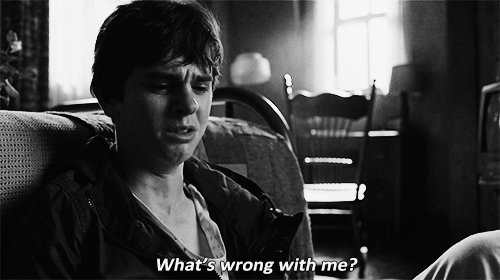 Even prior to Norma's inevitable season four matricide, he gradually begins to adopt her personality (and sometimes, her classic fashion sense.) At times, "Norma" is enraged by his female suitors, like his teacher Blaire Watson (Once Upon a Time's Keegan Connor Tracy), or classmate and eventual runaway Bradley Martin (The Last Airbender's Nicola Peltz.)
Other times, "she" is furious for injustices committed toward (the real) her, such as the molestation she suffered throughout childhood by the hand of her brother, Caleb (Sons of Anarchy's Kenny Johnson.) "She" even comes to play at Norman's eventual stay in a psych ward.
With Norma deceased (almost unbeknownst to Norman), and the upcoming arrival (and potential departure) of Marion Crane (hip hop princess, Rihanna's role!), it will be interesting to see what twists this unpredictable series will take. Bates' creators have written in blood that this is their take on Hitchcock's original universe, thus they harbor no intent to remake the film through the show.
So if not the expected plot direction, then where will this series go?
Make yourself at home, grab a shower, and drop some theories below in the comments. And don't forget: final check-in is Feb. 20th!
New Pre-Orders Available! Click below: