There may be nothing better than horror movie merch. Unless, that is, you're a real American Horror Story fan. In that case, there is something better – horror television merch!
Pinterest is a great resource to find, well, just about anything. In an attempt to get everyone in the world to spend all of their hard-earned cash on horror memorabilia, I've taken it upon myself to prey on innocent AHS fans and dig up some awesome merch you can grab. Check out the images below, and if you're interested, I've provided links that you may purchase them at. Do you own any? If not, here's your chance. Now don't say I've never done anything for you.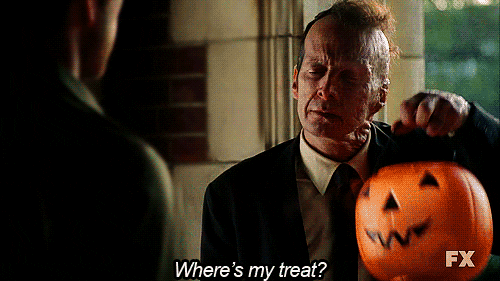 Who doesn't love Evan Peters? I've got a bit of a man-crush. So what?
Spend your money here!
Here's one for the Evan Peters' lady fans.
Remember Pepper? How cute is this!? Don't you just wanna squeeze it?
Give your money to the Horror Gods here!
This screen printed Asylum poster is just amazing.
Order this 24″ x 36″ poster here. Support indie horror merch!
A true fan eats, breaths, and sleeps American Horror Story. Warning: pleasant dreams not guaranteed. Unless your ideas of pleasant dreams involve murder, that is.
Oops; I meant eat, breath, sleep, and drink American Horror Story. There are  quite a few mugs to choose from on this site.Take your pick!
Stay thirsty, my friends.